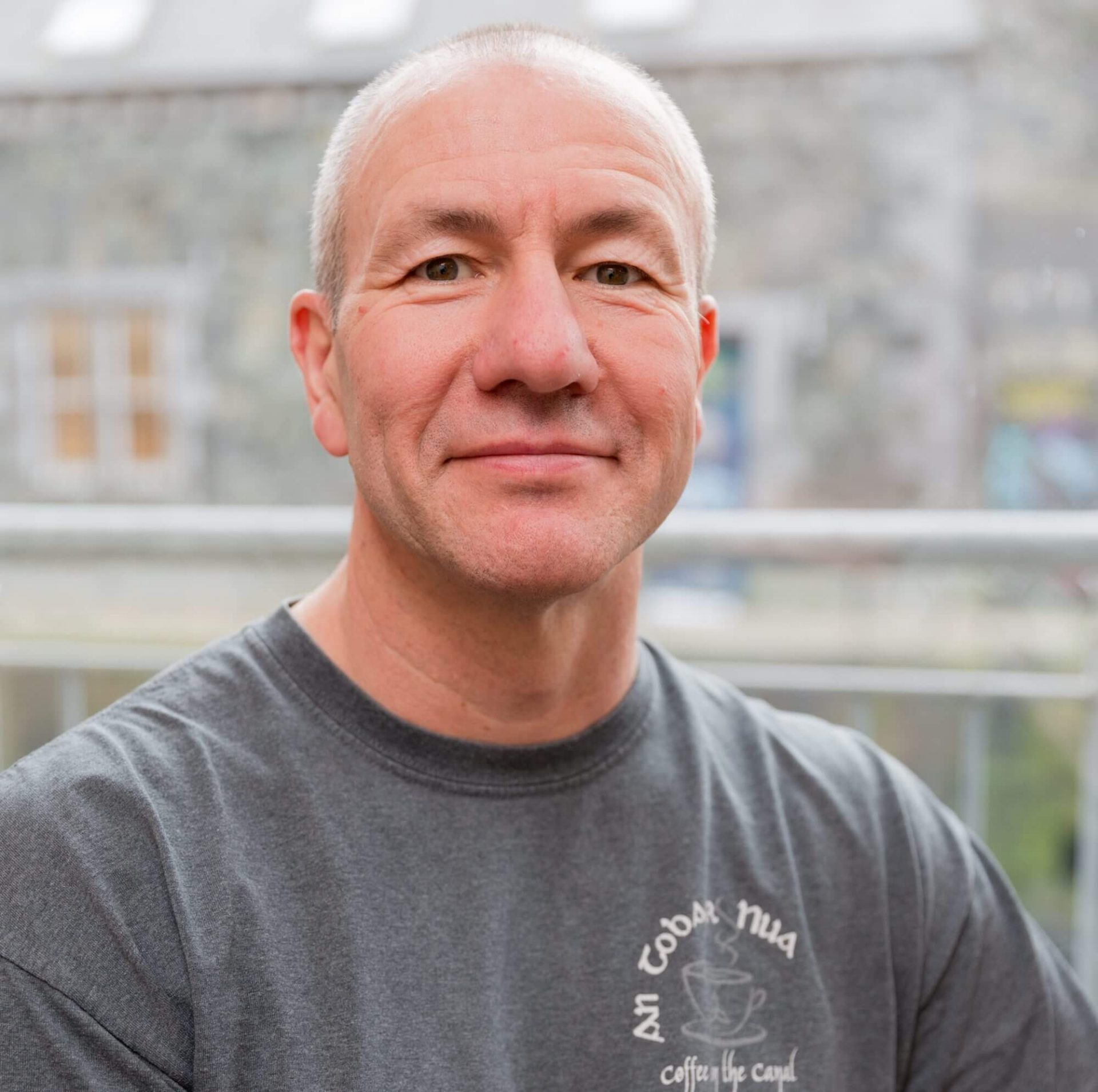 Mike
General Manager; Director of Outreach
Originally from Belfast, Mike came to An Tobar Nua in 2001 as part of the staff, after several years in the medical manufacturing industry. With more than a decade of experience in charity work and his business expertise, Mike oversees the day to day operations of An Tobar Nua. He also directly leads our Retreat and Religious Education department which works with Secondary Schools across the country. He is an avid fan of full-contact sports and trains in Brazilian Jiu Jitsu and Kick Boxing where he also coaches. When not at An Tobar Nua, Mike can be found in the gym or pursuing his passion for kayaking with his family.
Megan
Executive Director; Counsellor
Megan joined the An Tobar Nua team in 2004. She plays an active role in staff leadership. Megan is a certified Irish counsellor and spends her days in the An Tobar Nua Counselling Centre. She has a heart to support and assist people in overcoming life's challenges as they move towards healing and positive change. Megan has a BSc (Hons) in Counselling & Psychotherapy and is fully accredited by the Irish Association for Counselling and Psychotherapy.
Paul
A true Galwegian, Paul has been a face at An Tobar Nua since its very first year. Originally spending his lunchtimes with us while in secondary school, he has now come full circle and is managing Cafe operations. He has an extensive background in hospitality, including in our Cafe from 2006 to 2009, returning as our Cafe Manager in 2022. He brings a deep passion for relationship evangelism and demonstrating the Hope of Christ to our customers each day. He holds a bachelors degree in English Literature, and in his spare time he enjoys reading, music, movies, video games, and camping.
Deirdre
Bookshop Manager
After many years in the retail industry with one of Ireland's most successful brands, Deirdre joined the team in 2006. Her love for knowledge and her heart to help others find scriptural answers to life's problems made the bookshop the perfect fit. She is originally from Cavan but has been a Galwegian since 1991. When not at An Tobar Nua, Deirdre can be found volunteering in her local parish or spending time with her daughter and granddaughter.
Thomas
Head Counsellor
Tom joined the An Tobar Nua staff in 2002. As a certified Irish counsellor, he has a BSc (Hons) in Counselling & Psychotherapy and is fully accredited by the Irish Association for Counselling and Psychotherapy and the Irish Association of Christian Counsellors. As our Head Counsellor, Thomas has been a vital part of developing our confidential and nonjudgemental counselling service and has worked tirelessly to advertise and promote our counselling service throughout Ireland. Thomas has a heart to accompany individuals as they journey towards healing and wholeness.
Andrew
Manager of Outreach; Retreat Leader - Connacht
A native Galwegian, Andrew came to An Tobar Nua in 2014 after working for two years prior with a local church in Galway City. He graduated with a degree in Highway Engineering and a certificate from IBI (Irish Bible Institute) College. A talented singer, guitarist, and songwriter, Andrew often leads worship in different venues in Galway City and for An Tobar Nua's youth outreaches. He enjoys writing music, kickboxing and spending time with his wife and children.
Tomasz
Emmaus Scripture School Lecturer
Originally from Poland, Tomasz joined the An Tobar Nua team in 2014, driven by his passion for great coffee and student ministry. Tomasz holds two Master's degrees: one in Philosophy from Jagiellonian University in Krakow and the other in Theology from Pontifical University of John Paul II in Krakow. He is currently pursuing his PhD in Theology through Oral Roberts University in Tulsa, Oklahoma. Tomasz has a heart to walk alongside his students as they grow in their knowledge of Christ. When not at An Tobar Nua, Tomasz can be found playing strategy games or exploring the West of Ireland with his wife and four kids.